The Living Unicorns Project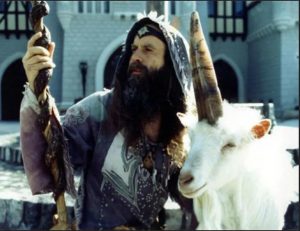 by Oberon Zell
oberonzell.com

Morning Glory and I have always been fascinated by myths and legends, and we decided early on to write a book about the truths behind the myths. In 1976, in the process of our research, we discovered the secret of the Unicorn. Unicorns weren't just figments of imagination, or distorted images of rhinoceroses; they had been actual living animals created by a closely-guarded secret process at various times throughout history, and derived from different species of horned animals. We realized that it was in our power to resurrect the authentic medieval Unicorn into the modern world.
So we moved to the country to create a Unicorn farm. The magick worked, and Lancelot was born at the Spring Equinox of 1980, to be followed two weeks later, at the full moon, by his brother Bedivere (named for knights of the round table). They were certainly beautiful. Their coats were iridescent white in the sunlight, with the texture of satin, and their long manes were like cloud fluff.
And we discovered an amazing magickal synchronicity. That spring, for the first time, virtually every gift catalog was highlighting Unicorns. Books, jewelry, T-shirts, figurines, calendars, posters, decorations, greeting cards, teapots, TV cartoons, gimcracks, and tchotchkes—everywhere we looked it was the Year of the Unicorn!
For the next several years, as we continued to produce a couple more Unicorns each year, we appeared at Renaissance Faires all over the United States and Canada. Some of them we exhibited on a rotating schedule at Marine World/Africa U.S.A., near San Francisco, where they were featured as billboard attractions.
In 1984, we finally obtained a patent on the unicorning process, and our booking agents landed us a four-year exhibition contract with the Ringling Bros. and Barnum & Bailey Circus. For the rest of the decade, our Unicorns were the stars of the Greatest Show on Earth, seen by millions. Kenneth Feld of the RB/B&B Circus publicly stated that this was their greatest attraction since Jumbo—and most financially successful ever!
We kept several of them at home as our own companions, and placed some for a while at local animal parks. Decades later, we still hear from people whose lives were transformed by their encounter with "the impossible dream" made manifest, and the epiphany that if a Unicorn can be real, then anything is possible!
On Nov. 17, 2016, the Travel Channel show, "Mysteries at the Museum," hosted by Don Wildman, featured a rather garbled account of "Lancelot the Unicorn." Currently, our friend and agent, Jeffrey Siegel, is preparing a traveling exhibit of "The Living Unicorn," featuring a genuine Unicorn skull as its centerpiece.
The Great And Powerful Oz – interview http://www.sideshowworld.com/9-ms-pi/interview-OZ.html
http://www.travelchannel.com/shows/mysteries-at-the-museum/episodes/lancelot-the-unicorn-prohibition-man-dragon-island-and-blood-rain